---
In my many years of gardening experience, I have always preferred manual work instead of using gardening tools and other gardening utensils.
I never really had a specific reason as to why I like doing things with my bare hands and with just a pair of gloves and gardening boots, but maybe because I was just used to it.
However, there was a time that my soil needed cultivating since I was adding more plants and seeds to my collection. Usually, I would just use a tiller, but since my garden is big I decided to look for a tool set or tool that would help make things much easier for me.
So I decided to finally try other ways to do these tasks instead of manually working with my soil which takes a lot of time and effort.
Not long after, I decided to try the Sun Joe Electric Garden Tiller. It had many reviews with an excellent product star rating which is why I chose this particular product. At first, I did not expect much since I was used to working manually, but this product proved me wrong and definitely impressed me!
This is why I would like to share with you my experience with the Sun Joe Electric Garden Tiller. This highly convenient machine has helped me a lot, and I believe you will get the same benefits as well!
For starters, below are the product's specifications.
---
Sun Joe Electric Garden Tiller Review
Product Specifications:
Power
Power Source
Material
Color
Size
Weight
8,600+ Ratings
4.7 Stars out of 5 Stars
Ranked #1 in Amazon's Power Tillers
---
Sun Joe Electric Garden Tiller Features
The Sun Joe Electric Garden Tiller sports a powerful 13.5 Amp motor that can easily remove unnecessary dirt. It can also effortlessly pierce through the soil at a rate of 370 Revolutions Per Minute (RPM). This ensures maximum aeration, which is great for both plants and seedlings. It is also able to cultivate your soil up to about 8 to 16 inches.
Moreover, this product has the ability to control weeds as well, especially when needed. The Sun Joe does not have a problem with tough, hard, or compact soil, so this should not worry you if you have these kinds of soil.
When it comes to versatility, the Sun Joe Electric Garden Tiller has 3 positions, which makes it easy for you to maneuver whenever you need to shift through different positions.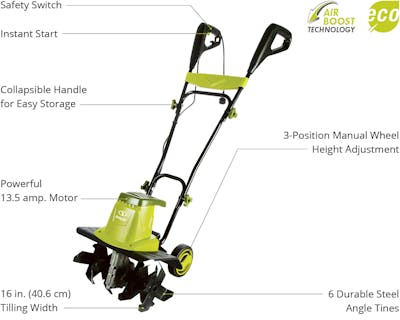 ---
Powerful
As mentioned, this product has a 13.5 Amp motor that helps it give it the power to cultivate an impressive depth of 16 inches wide and 8 inches deep to your soil. This powerful motor makes tilling hardened beds much easier without the use of any gas or oil and has no problems with working through solid earth.
---
Durable
In terms of durability, this product is made up of 6 steel angled tines for optimum durability, longevity, sustainability, and performance. The 6 angled steel tines is a great design for increased effectiveness. These can easily cut weeds, mix hard dirt, and improve soil aeration for compact soil.
---
Easy To Store
They might be bulky devices, but don't let their appearance fool you since they are actually easy to store. Their handle folds make them convenient for storage as well as transport. It does not even take a lot of space in my shed. So, you won't have to worry about storage with this product.
---
Adjustable
Their 3-position wheel adjustment contributes a lot to its versatility since many electric garden tillers and cultivators do not have this feature. The wheels of the Sun Joe Electric Garden Tiller are in the rear. This is for you to easily tip the cultivator and proceed on rolling.
You can easily adjust this product into three different positions with ease. Its sturdy wheels help make the machine stable and portable, making it easy for you to move the product back and forth from your storage room or garden shed.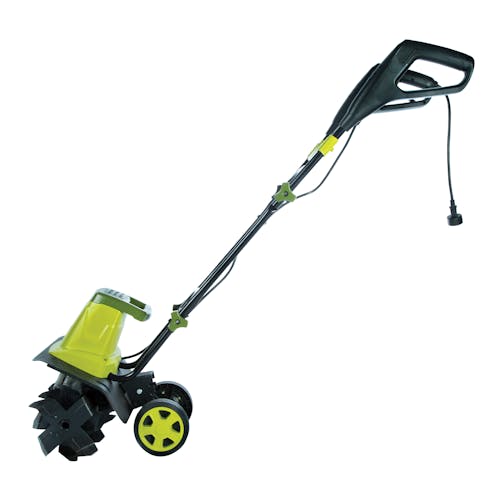 ---
Maintenance Free
As aforementioned, the Sun Joe Garden Electric Tiller is not powered by oil or gas, and nor does it consist of any of those elements for its operation. This machine is solely powered by electricity and with just a push of a button, it is ready to go.
You won't have to worry about fumes, smoke, spark plugs, tune-ups, or even maintenance since it has little to almost no maintenance at all.
However, I do highly recommend cleaning it up after every use to maintain it in pristine condition.
---
Final Thoughts on the Sun Joe Electric Garden Tiller
After using this product, I will never go back to manually tilling my soil again. This product saved me a lot of time and effort, and all of my plants and seedlings are doing very well in the soil that this product has tilled and cultivated. However, I do recommend looking out for its wire since it can get in the way if you're not careful.
Do you have any experience with the Sun Joe Electric Garden Tiller? Let us know in the comment section below! Also, if you have any questions or clarifications about this product, you are welcome to comment them down below as well.