As a gardener who uses their garden shears often, it is expected that they will eventually get dull especially if you do not do regular maintenance on it. I personally had no clue whatsoever about how to take care of my garden shears, which led me to buy a new one every time one of my garden shears broke.
It definitely was a total waste of money and this was the reason why I decided to learn how to do proper maintenance on my garden shears by learning how to sharpen them. However, it may sound as simple as it seems but, in reality, there are specific techniques required in order to achieve the right sharpness restoration for optimum performance.
So, to prevent you from making the same mistakes I did, below are the steps on how to sharpen garden shears the correct way.
---
How To Correctly Sharpen Garden Shears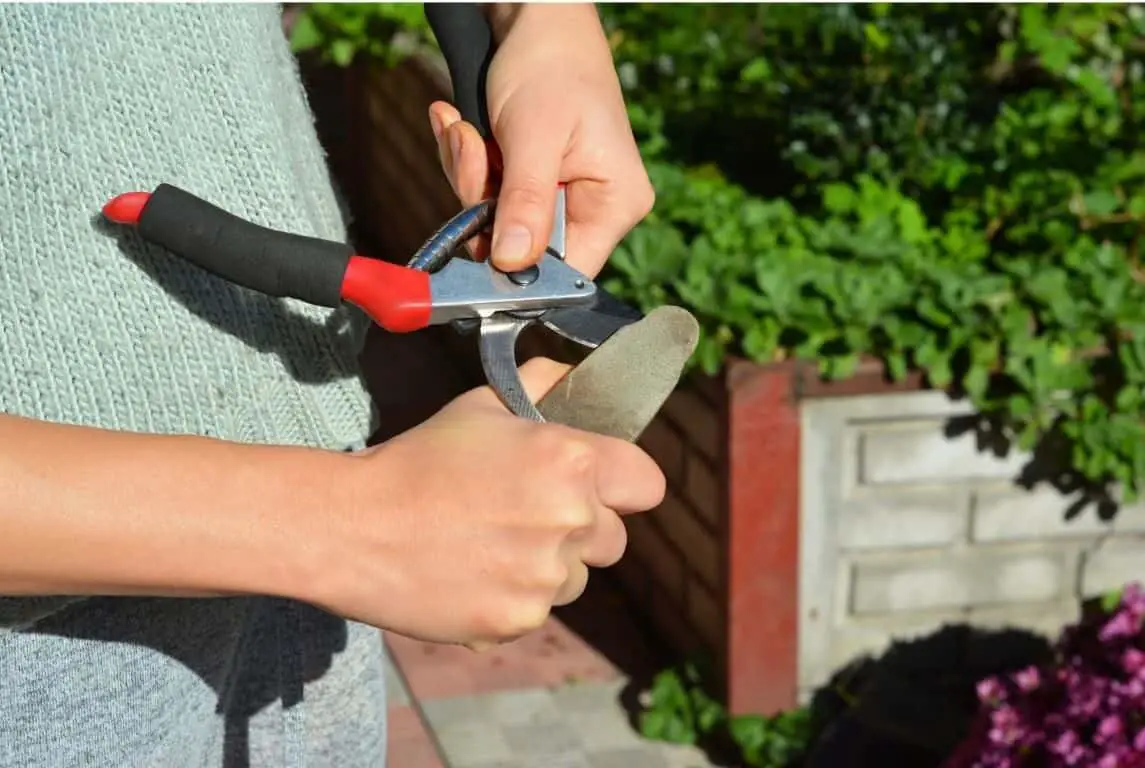 As mentioned, there are specific strategies about how you should sharpen your garden shears. To get the best results, follow the steps below accordingly. These are the methods that I used to achieve the right sharpness restoration that I need to shear my plants again.
Also, make sure that you have the necessary materials below:
Protective Equipment
Linseed oil
Sandpaper/Steel wool
Hand file
Cloth (for wiping)
Hard-bristle brush
---
1) Clean Your Garden Shears
Before you even start sharpening your gardening shears, it is important to clean your shears entirely first to remove piled-up mud and other debris that can cause problems in the sharpening process. I suggest washing the shears first with your garden hose so that you can easily remove dirt from them with your hard-bristle brush.
You could also soak the shears in a sink that is filled with warm and soapy water. You can leave them for a good few minutes to allow the water to loosen the dirt. Afterwards, you can then proceed with removing the traces of dirt or mud with your hard-bristle brush.
It is crucial that you handle the shears with care as you clean them because you can easily get cuts if they are not properly handled. As you clean them, make sure that the blades are facing away from your face and body for safety purposes. After cleaning the garden shears totally, dry it with the use of a cloth to prevent the production of rust.
---
2) Remove Rust (if any)
If the gardening shears you have are not made out of stainless steel, chances are, your garden shears might have developed rust. So, to prevent it from further spreading, inspect your garden shears and see to it if there is any.
If there happens to be rust on it, remove the rust by using sandpaper or steel wool. High-grit sandpapers do well in these situations, and scrubbing your garden shears with this can easily remove rust in no time,
Afterwards, you can then rinse off the rust with your garden hose and let them dry out for a few minutes or so.
---
3) Proper Positioning
As mentioned, I highly suggest you face the gardening shears away from your face or body as much as possible to secure it from unwanted cuts or accidents. Moreover, the way you position your gardening shears for sharpening matters greatly in terms of the filing and the result of your sharpening.
When it comes to bad positioning, aside from the fact that it could cut you, poor positioning can consume more time, and the chances of failing in sharpening your gardening shears are much greater as well.
Proper positioning allows you to work comfortably also as you are filing down the blades. A bench vice can assist you when you are filing. However, if you do not have one, I suggest holding the tool with your less dominant hand and use the other hand for filing.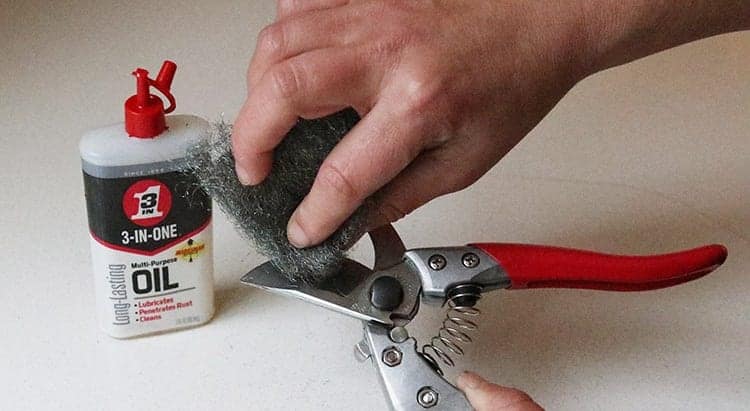 ---
4) File Correctly
Speaking of filing, it is vital that you file at the right angle to effectively sharpen your gardening shears. By holding the file firmly with your dominant hand and placing the flat side at a 20-degree angle along the edge of the blade, this will allow you to easily maneuver the file as you work with it.
Although it does take some time and practice to master this, I can assure you that it is easy to get the hang of it. After getting the angle right, all you have to do is move the file forward in a straight motion from the center, wherein the screw is holding the two blades together towards the end of the blade.
---
5) Add Lubricant To The Shears
Now that you have successfully sharpened your gardening shears, I highly recommend that you add lubricant to them to prevent your tool from accumulating rust, and to keep it in pristine condition. However, if you do not prefer artificial lubricants, you can safely use linseed oil as a substitute.
But before you add lubricant to your gardening shears, make sure that you wipe the entire tool thoroughly first. Afterwards, you can proceed on dipping a clean cloth to some linseed oil and apply it along with the length of your gardening shears' blades, pin, or the entire tool in general. But do focus on the spots that are prone to rust first.
---
Pruning vs Shearing
If you are wondering if pruning and shearing are the same, the simple answer to this is – No. Tree shearing is commonly confused with pruning for multiple reasons. Shearing basically refers to shaping a plant into the shape that you want it to form. On the other, pruning is the process of removing dying or useless branches from a plant to promote faster plant growth and development.
When it comes to the similarities between the two, these practices prevent your plants from getting garden pests and diseases, which is definitely something that you want your garden to avoid! I personally prune and shear my plants and trees for these reasons, and I have never encountered any dying plant in my collection whatsoever.
---
Final Thoughts On Sharpening Your Garden Shears
Although there are several steps on how to sharpen your garden shears, you would be happy to know that the process does not actually take a lot of time and effort! This means that you can go back and enjoy shearing your plants right away after you are done sharpening.
I highly recommend doing regular maintenance on your gardening shears to prevent them from degrading or breaking down, especially if you use them often. For you to not go through the hassle of choosing and purchasing another pair of gardening shears, spare some time sharpening them instead. It is way faster and more cost-effective.
If you have any experience or tips that you want to share with us about how to sharpen gardening shears, you are more than welcome to write them down in the comment section below. Also, for questions and clarifications, please do not hesitate to comment them down as well!